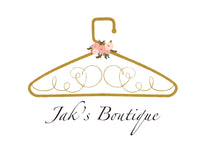 Welcome to Jak's Boutique!
Jak's Boutique was founded by two sisters in 2020 after we decided to take the plunge and follow our dreams. Our vision is to provide women and children with fashionable options that don't break the bank. Take a look around and let us know what you think!
Take me to the Shop!
This section doesn't currently include any content. Add content to this section using the sidebar.